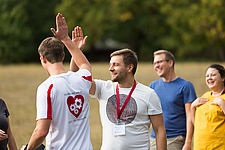 Day 2 - Friday, 13 September 2019
1st Session: Personalized Cardiovascular Medicine I (to be continued on Day 3)
Chairs: Tobias Petzold (Munich), N.N.
08:30 AM - 08:50 AM

09:00 AM - 09:20 AM

09:30 AM - 09:50 AM

10:00 AM - 10:35 AM
Stephan B. Felix (Greifswald), Immunoadsorption in Patients with Dilated Cardiomyopathy
Laura Zelarayan (Göttingen), CRISPR-mediated activation of endogenous gene expression to restore homeostasis
Maximilian Emmert (Berlin), Next generation regenerative implants to repair the diseased heart
Friedrich Luft (Berlin), Critical View on Personalized Medicine
10:45 AM | Coffee break
2nd Session: Highlight talks from the Young DZHK Retreat
Chairs: Nadya Al-Wakeel-Marquard (Berlin)/Tobias Jakobi (Heidelberg)
Talks will be selected during the Young DZHK Retreat which takes places prior to the main DZHK Retreat.

12:30 - 02:30 PM | Lunch break
Keynote
Chair: George Kararigas (Berlin)
Leslie Leinwand (University of Colorado), Pathogenesis and Treatment of Genetic Cardiomyopathies
04:00 PM - 06:00 PM | Team Events
06:15 PM - 07:30 PM | Dinner
Young DZHK Poster Session II
Abstract submission for members of the Young DZHK ended on 02/06/19.